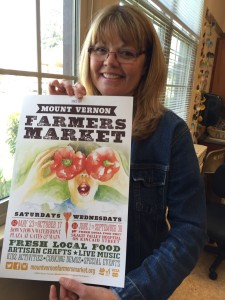 Margaret started painting in high school and loved every minute of it. She'd had a 38-year absence from her art studies, when in 2010, she took a watercolor class from Ruby Martin in La Conner, and rediscovered her passion. Since then, she's been busy painting whenever her schedule permits. 
She and her husband, Ray, love to travel, and she's inspired by the colors, scenes, people and food during those travels. 
She raises chickens, has two cats, loves to play her ukulele, guitar and to sing. Her favorite time is Wednesday afternoons, when she paints with her friends, the Painted Ladies at the Mount Vernon Senior Center. She hopes to paint forever!
See her work all during the month of October, 2015 at The Historic Lincoln Theatre Art Bar, Pave Jewelers, both in Downtown Mount Vernon, and Skagit Cellars Wine Tasting Room in La Conner.


This work is licensed under a Creative Commons Attribution 4.0 International License.